English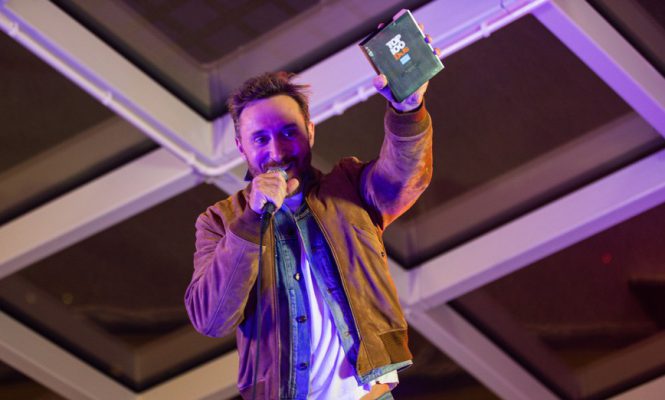 DAVID GUETTA RETAINS TITLE AS THE WORLD'S NO.1 DJ, AS DJ MAG'S ANNUAL TOP 100 DJS RESULTS ARE ANNOUNCED
Guetta joins an elite group of artists who have topped the ranking three times
Words: DJ Mag/ DJ Mag ASia
David Guetta has been crowned as The World's No.1 DJ for the second consecutive year after winning the 2021 edition of DJ Mag's annual Top 100 DJs poll. The French superstar DJ, who worked his way up from playing at underground house clubs through to the top of the pop charts, has now won the globally respected award three times.
On his landmark win, David had this to say:
David Guetta: "I'm so proud to be a part of this amazing industry and can't express my gratitude to everyone who voted me your No.1 DJ for a second year in a row. It means so much. I've been working really hard this year, we took United at Home to new heights, finally reunited on the dance floor and I've released more music than ever. It's been amazing to play new music live and the energy and reactions from the crowd is what keeps me going after all these years. Music is my passion and to be able to live that everyday is all thanks to my fans. I'd like to thank my team, and all of the artists and producers I've been working with the past year. I'm so grateful to all the DJs who have been supporting my music. We've built a culture with my Future Rave sound together with MORTEN and Future Rave 2.0 is on the way. After being back on stage, at clubs and festivals, I have the feeling that dance and electronic music is coming back stronger than ever."
The COVID-19 pandemic has adversely affected a lot of elements of the international electronic dance music scene, but it doesn't seem to have dented the enthusiasm of dance music fans — an incredible 1.3 million people voted in the Top 100 DJs poll this year, matching last year's total, cementing Top 100 DJs position as the biggest music poll in the world.
David Guetta joins an elite group of DJs — Martin Garrix, Tiësto and Armin van Buuren — who have won the Top 100 DJs vote three times or more. David Guetta is a global ambassador for the electronic dance music scene who keeps innovating and reaching the parts that few others can.
A natural born collaborator and empath, David Guetta spent the 2010s consolidating his position as a top DJ, producer and hit-maker, but in recent years he's increased focus on the more underground side of his sound.
This journey away from the mainstream coincided with Guetta finding that there weren't enough big EDM tracks that he liked to fill a big festival set. He needed more big room tunes for his shows, so set about creating more of his own. Hooking up with Danish pal MORTEN (this year's Highest New Entry award winner), he came up with the 'future rave' concept via the 'New Rave' EP. Characterised by techno drums, a trance sensibility and EDM dynamics, tracks such as 'Never Be Alone', 'Make It To Heaven' and 'Detroit 3AM' came out just as the pandemic was about to shut down the planet.
His renewed focus on DJ culture led to his 2020 victory in the Top 100 DJs poll, and after playing more live streams — including a livestream  from Paris's Louvre Museum on New Year's Eve 2020, in aid of Unicef and French food package charity Restos du Coeur — he had his first 'in real life' gigs back in Florida from the end of May 2021 onwards. He moved onto Las Vegas before playing EXIT in Serbia, Creamfields in the UK, Untold in Romania, and then back to the UK for the Isle Of Wight festival at the end of September.
There was never dull moment on the production front for him during this difficult period either, scoring a UK No. 3 hit with 'Heartbreak Anthem' alongside Little Mix and Galantis and other smashes including 'If You Really Love Me', 'Bed' with Joel Corry, 'Remember' with Becky Hill and 'Hero' alongside Afrojack, sending him to No. 9 most streamed artist on Spotify globally. He also released a 2021 remix of his classic 'Memories' after it unexpectedly went viral on Tik Tok and found time to drop a massive rework of Shouse's 'Love Tonight'. Guetta also marked ten years of his massive 'Titanium' collaboration with Sia by releasing new remixes, including a mindblowing Future Rave version and returned to his uncompromising Jack Back alias for 'I've Been Missing You' with Ferreck Dawn and Guz.
As part of this year's Top 100 DJs campaign, DJ Mag once again held Virtual Festivals every Saturday and Sunday during the voting period. The streams — which included sets from David Guetta, KSHMR, Timmy Trumpet and Miss K8 — racked up well over 5.7 million views in total.
The Top 100 DJs results were announced live on stage at the Top 100 DJs Awards, presented by AMF, which took place at Amsterdam's AFAS Live. Guests at the event — and the millions watching the live stream around the world — were treated to performances from Afrojack, Alan Walker, Armin van Buuren (Highest Trance DJ), Avalan, Christina Novelli, Don Diablo (Highest Future House DJ), Carnage/GORDO (Highest Returning DJ), Mariana BO, MORTEN (Highest New Entry), Oliver Heldens and W&W.
Also announced during the Top 100 DJs Award show were two editorial choice awards, selected by DJ Mag's editors to recognise the contribution of artists making a significant impact outside the scope of Top 100 DJs voting. Japanese artist Qrion  — whose rise since debuting on Anjunadeep in 2019 has been meteoric  — was presented with the Future Star award. Detroit techno architect Kevin Saunderson  — fresh from rebooting his E-Dancer project with a remix album on Drumcode and appearing on the cover of DJ Mag North America  — was presented with the Lifetime Achievement award.
Most voters in this year's Top 100 DJs came from prime clubbing age ranges, with 40% of votes coming from 18-24-year-olds and 40% from the 25-34 age range. However, with clubs and festivals still closed or cancelled for most of the year, a lot of participants in the poll clearly based their votes on live-streamed sets or past favourites.
Despite this, territories where clubs opened up early clearly benefited from real life event experience. China, whose clubs have been open for approximately 18 months now, has seen a huge expansion in its vote share. Almost 15% of the overall votes in 2021 came through DJ Mag's dedicated China voting platform djmagvote.cn.
There are eight Chinese DJs in the poll this year, the highest number ever, which includes six of the 13 overall new entries (Panta.Q, GIFTBACK, KAKA, Luminn, Alexso, Dexter King). Elsewhere in Asia things are also on the up. The continent has the second highest number of DJs representing overall, plus South Korean DJ Peggy Gou claims the Highest Climber award as she moves up 31 places to No. 38.
Overall Asia was the fourth highest-voting continent. South America came third, with Brazilian voters making a big impact, and North America second — where the USA and Mexico both counted a large number of overall votes. The most votes this year came from Europe, with UK dance music fans in particular making their voices heard. In total, votes were counted from 231 countries, principalities and islands, including Palestine, Turkmenistan, Gabon and even a single vote from the tiny Norfolk Island off the coast of Australia — big up all international raving crew!
Once again Europe has the most charting DJs by far — around 60% in 2021, including David Guetta at No.1. The Netherlands claims a fifth of the overall list and half of the top 10, along with the Highest Trance (Armin van Buuren, No. 3), Highest Future House (Don Diablo, No. 7), and Highest Hard (Angerfist, No. 46) awards. Belgian artist Charlotte de Witte lands at No. 23 to take the Highest Techno trophy for the second year running, while Germany's Claptone wins Highest House again, at No. 32. Danish act MORTEN, a close collaborator of David Guetta, is this year's Highest New Entry, breaking into the poll in 39th place.
Other new entries include Asian-American duo BEAUZ, Japan-based French DJ Naeleck, Germany's Virtual Riot and VIZE, Sweden's KAAZE and British DJ Christina Novelli. The number of non-movers and re-entries is up from last year, with five DJs holding their places and three coming back into the poll — most notably Guatemalan-American DJ Carnage, aka GORDO, who jumps straight back in at No. 37.
As guardians of the poll, encouraging voters to consider a diverse range of DJs to better reflect the global electronic music scene and its origins within LGBTQ+ Black and non-Black POC communities remains a key focus for DJ Mag.
In 2021, 13 women have charted, matching the new record set last year, and more Black and non-Black POC artists joining the list means it's the most racially diverse poll yet. While this is another step in the right direction, DJ Mag acknowledges that there is still a way to go, and pledges to continue to work — alongside colleagues and friends across the industry — to increase the diversity of their year-round activity, in the hope that they can collectively influence the landscape that Top 100 DJs reflects.
2021 marks the fifth year of Top 100 DJs' long-term partnership with Unicef, the world's leading children's organisation. Throughout the partnership DJ Mag has mobilized the world's leading DJs to raise awareness for Unicef's work. In addition DJ Mag has raised more than £90,000 for the charity. With this money, Unicef has provided life-saving vaccines to protect more than one million children worldwide.
Read the full Top 100 DJs results, including interviews with every DJ in the poll at  djmag.com/top100djs