English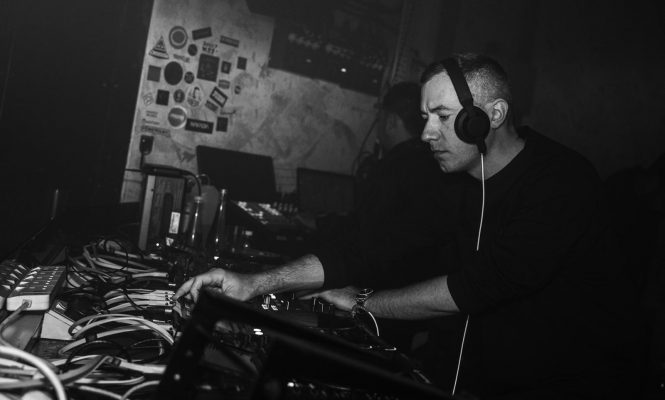 Meet the man behind London's dance music scene
Legendary UK tastemaker of BBC Radio 1, Benji B
Words: Kevin Kang
Benji B is a UK DJ, producer, and radio host hailing from London. At age 16, he was already knee-deep in his city's club scene and began DJing. At the same age he got his start working as a producer for Gilles Peterson's show at Kiss FM, and now he has his own show every Wednesday night at Europe's biggest radio station, BBC Radio 1. He is also the man behind London's club night Deviation, produced for Kanye West on the album 'Life of Pablo', and has recently been appointed as music director at Louis Vuitton. Last week, Benji B visited Seoul, Korea to headline the city's first ever IST(International Stussy Tribe) gathering –streetwear brand Stussy's worldwide movement that host events to connect sub-cultures and creatives all around the world.
It was Friday night. The streets of Itaewon were already teeming with people indulging in heavy dose of drinks and food. The chilly fall weather has already started to settle in, which was apparently not enough to stop people from enjoying a fun night out. Marking its 7th year anniversary this year, Cakeshop Seoul has been a cradle for Itaewon's underground dance music scene. Ever since it opened in 2012, numerous world-class artists including Boys Noize, Tokimonsta, and Cashmere Cat passed through its doors. The club is also a home for LGBT parties such as Shade Soul, as well as local DJ crews including DEADEND, 360 Sounds, and Deluxe Seoul.
As I arrived at the venue around 11, a group of skaters gathered in front came into my sight. They had set up a small ramp in front, and the skaters were freely chilling and skateboarding in their limited edition Stussy t-shirts presumably given to them by the brand. Looking around, I could already see some friendly faces under the red neon lights of the entrance. I ran into DJ/producer Kona, who came back from her gig at the Stussy Seoul chapter pre-party. We had a brief chat about her last album and then she tipped me off about her exciting new project coming out later this year. Then we spent our time observing the interesting crowd while waiting for our friends.
At last, after waiting for what felt like forever, we finally entered the club. After walking down the dark stairways into Cakeshop, we were welcomed by a framed image of "let them eat cake" on the wall and the logo of Cakeshop projected behind the booth instantly caught my attention. DJ Dasom, a member of Dadaism Club—Seoul-based collective that curated tonight's event—had already got the crowd going wild. Although the room was half-filled, we could already see the crowd grooving. As the people celebrated Dotori and Dasom's powerful b2b set, we headed over to Contra—another venue hosting tonight's IST party which was conveniently located on the second floor of the same building.
Bright blue lights welcomed us as we entered into Contra. In contrast to the dark, dimly-lit red lights of Cakeshop, Contra came with a bright interior that offered a much more relaxing vibe. After downing a few shots at the bar, I saw a friendly face at the DJ booth. DJ/producer Frnk, better known for his collaborative project XXX, was keeping the dance floor busy as he dropped mesmerizing acid tracks. Despite being spread out over two venues, the phenomenal line-up drew a big crowd to the event and the energy level, needless to say, was also insane. While bopping my head to the beat, I noticed the time was already close to one, and we hurried back to Cakeshop to catch the main event of the night.
Right after we arrived at Cakeshop, we were immediately surprised at how packed it was. We fight our way into the crowd to get a better view of the DJ. Closet Yi, one half of Seoul-based house music duo  C'est Qui, had been playing the stage for a while, warming up the crowd with her energetic house set. The DJ/producer entertained people with her groovy tracks, as everyone held their breath waiting for Benji B.
Right on time, the UK DJ/producer Benji B enters the booth. The mere sight of the DJ was enough to get everyone in the club convulsing with joy. Taking over with house tunes, the man didn't bother dropping bangers straight away, yet he effortlessly dominated the stage with his charm. The DJ truly lived up to his reputation as a pro radio host as he surprised the crowd by covering a wide range of genres throughout the two hours of his mix. There wasn't one moment of awkwardness or any wonky transitions during his eclectic mix, as the DJ skillfully executed the transitions between grime, UK garage, hiphop, R&B, and many more. Starting off with house music, the set smoothly flowed to classic UK garage pieces like R.I.P Productions' 'Oh Baby', later followed up by heavy grime and hiphop bombs including Stormzy's 'Wiley Flow', and A$AP Rocky's 'Babushka Boi', that drove everyone into a frenzy.
The last hour had already been epic, but the highlight of the night didn't come until the last half of his mix. As if everything up until this point has just been a warm up, Benji starts flooding the speakers with classic hip-hop and R&B gems. Jay-Z's 'U Don't Know' came out and it was suddenly all a trip down the memory lane. Everyone held their hands up high and began jumping to M.O.P's 'Ante Up', and sang along the lyrics to songs including Baby&Clipse 'What Happened to That Boy' and N.O.R.E 'Nothin'. Wrapped up in nostalgia, the crowd was fully immersed in his music, responding to every drops of the British DJ. Childhood memories began flooding through my mind as the DJ played hip-hop masterpieces like Biggie's 'One More Chance' and Mobb Deep's 'Shook Ones (Part II)'. It was almost 3 am but our spirits  were flying high. Everyone jumped non-stop until the very last song of his gig.
After dancing two hours non-stop to the mind-blowing performance of Benji B, we stopped by Contra to catch the last few minutes of Kingmck and Andow's b2b set before heading out. The two Korean DJs rocked the crowd with endless drops of trap and bass, while we were still awestruck by Benji's set. It was a pleasure to see the man behind London's ever-evolving dance music scene and it was, with no doubt one of the most memorable events this year. I really hope to see him again in Seoul soon.