English
From Bedroom Producer To Global Star
The Australian music genius lands in Korea
Words: Kevin Kang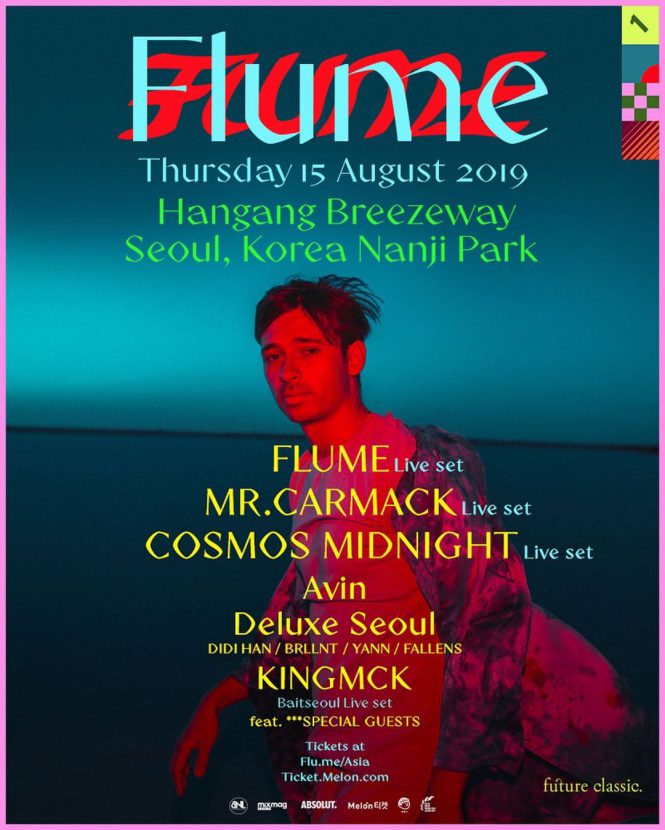 As an artist who's gone from making music on a laptop in his bedroom to winning the Grammys, Flume has always been an idol among bedroom producers—a term that refers to producers who make music at home with a minimal setup.
Without crates of vinyl or a studio equipped with state-of-the-art gadgets, Flume managed to open a new chapter of electronic music in Australia with his Future Classic colleague Chet Faker. His second album 'Skin' earned him a Grammy Award for the best dance/electronic album, and his 2016 hit 'Never Be Like You' was streamed over 380 million times on Spotify.
Ever since the release of his self-titled album in 2012, Flume took the world by storm. At 21, he was already being called the genius of electronic music, weaving together expansive soundscapes of R&B, Soul, Hip-hop, Pop and many more. Fresh vocal chops, hip-hop syncopation, and the detailed sound design are all blended together beautifully creating his own brand of music.
From the moment Flume's name appeared on the line-up for this year's Summer Sonic Festival in Japan, many people held their breath hoping the Australian producer would come to Korea. So, it was a huge relief for many Flume fans in Korea when Mixmag Korea finally announced the event.
Supporting the headliner was the Australian duo Cosmos Midnight, and DJ/producer Mr. Carmack who is a part of the LA collective Soulection. The local line-up was consisted of DJ AVIN, KINGMCK, and Deluxe Seoul.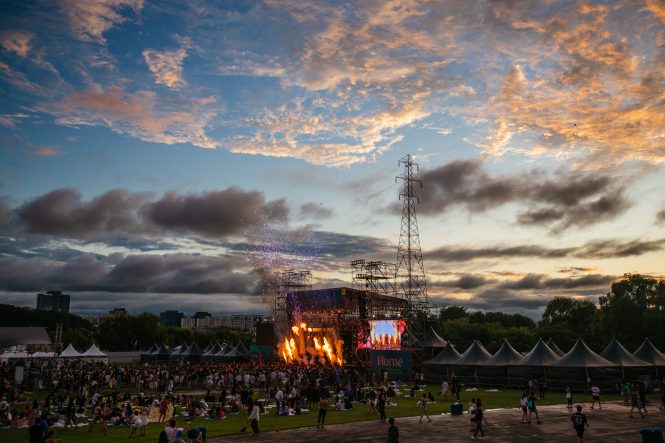 A downpour on the previous day kept everyone on tenterhooks. Feeling half worried and half excited, I set off for Nanji Hangang Park around 3pm. By the time I got to the festival grounds, the rain finally subsided, and everything started to look better.
Overlooking the picturesque Hangang Park, the festival was already packed with people. It was quite a sight to see the contrast between the chill park visitors and festival-goers getting pumped up for Flume.
On the stage, local DJ KINGMCK already had the crowd going off with his powerful trap-infused set and he had brought along a surprise guest –rapper Keith Ape came up on stage and drove everyone into a frenzy.
After an hour of hard-hitting bangers, it was time for Cosmos Midnight to perform on stage. The Australian duo slowly rose up to fame since their twist on Flume's 'Sleepless' for the Future Classic remix competition went viral in 2012. The band showcased a live set, filling the atmosphere with their signature grooves and positive energy, which was accompanied by the beautiful sky that cleared up completely after the rain.
Talented singer Asta joined the team as they performed their hits as well as some unreleased pieces. The band kept everyone grooving up until they played their rendition of Goldlink's 'Dark Skin Women' as their last song, which was when everyone went crazy.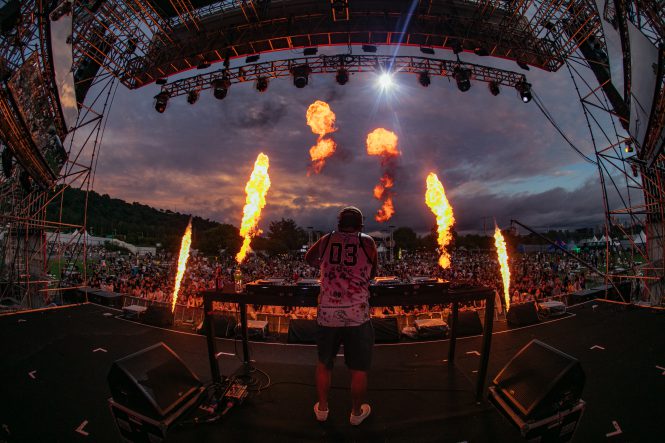 The next act, Mr. Carmack appeared on stage after 15 minutes of intermission. Ever since the short man with a hobo beard with came up, he quickly took over the stage with a strong presence, dropping bangers after bangers of his trap & bass infused tracks. The visuals behind stage also provided an extra eye-candy for the show.
As the dipping sun soaked the skies with vivid colors, Mr. Carmack shouted "Is everyone ready for Flume?". Then everyone almost lost their mind when he played his remix of Drake's 'Trophies'. We all knew it was time. As I looked around, I saw the festival grounds packed with more people.
The skies turned dark, and the crowd waited impatiently for what felt like an hour. When the man finally came up, everyone went mad. The robotic voice featured on the intro of his 'Hi this is Flume' mixtape resonated throughout the stage and messages in Korean including "hello" and "Happy Independence Day" appeared on screen, which were met by wild cheers of joy from the crowd.
Wearing a silver jacket which resembled a cross between a spacesuit and a bowling jacket, Flume caught the eyes and ears of everyone since he stepped on stage. Another thing that caught my attention was his unique setup—a Eurorack with a lightening orb connected to multiple Roli Blocks made the artist look like a space cadet steering the ship towards his own musical universe.
The video of his Disclosure 'You & Me' remix suddenly emerged on screen, accompanied by lasers shooting to the sound of music. As the drum-breaks and synth resonated throughout the stage, everyone was blown away by the energy of the show. By the time he played his classic—Lorde's 'Tennis Court' remix—everyone was jumping, fully immersed in his music.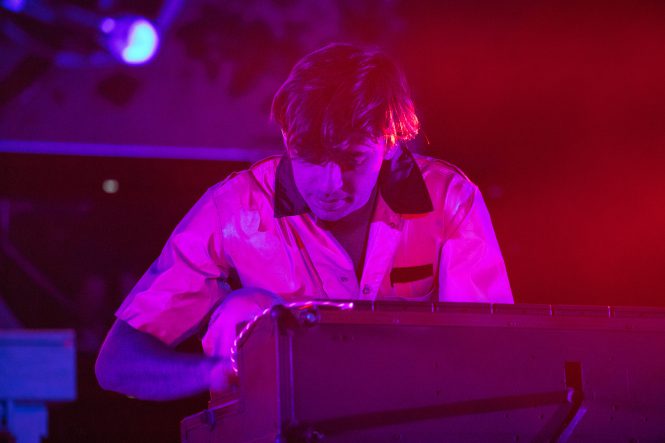 And as if that wasn't enough, Flume started to surprise us by incorporating unique performance art into the show. Starting off with spray painting 'Hi this is Flume' in Korean, he then broke a bunch of pots on the stage floor and also pulled out a chainsaw to engrave 'I love Seoul' on stage, making it an unforgettable night for everyone at the show.
The festival certainly ended on a high note, and I was left in awe over the phenomenal show put on by the musical genius. Without any doubt, it was definitely one of the most memorable events this year and I hope to see him again next year.